Based in Miami, Florida, Carmina Santamaria is the founder of Kwema, a wearable tech start up that has developed technology to help women in situations of danger. She has 10 years of experience in strategy and finance. Carmina started her first serious entrepreneurial venture in 2012 with an ed-tech software for tablets that made it to five countries in Latam. Kwema gathers not only the lessons learnt at her first startup but also the passion for helping empower women around the world.

What is your product and how did you come up with it?
Kwema is the smart bracelet that can call for help in just 3 seconds, a beautiful piece of jewellery with a secret weapon. Once the hidden button on the bracelet is pressed, it will contact friends and family, the authorities and also other user nearby who can provide help immediately. The idea of Kwema was born after a friend of mine was kidnapped, it's when it stopped being a statistic, this terrible crime had a name and a face and it became an obsession. Kwema is a Swahili word that means I'm fine, I'm safe, and it's exactly what we stand for.
When did all start and do you have other members in your team?
I was the co-founder of an ed-tech company that ran for almost three years, when this venture ended, Kwema's idea took force, the first thing I did was to put a team together, being a tech company I needed an experienced and trusted CTO as a co-founder, a Hardware Engineer to help us build a strong product and a right hand for operations. Everything jumpstarted in March when we got our first investment, and we haven`t stopped since.
We are very proud to have a strong team building Kwema's vision to help create safer cities for women. Kwema has a full-stack engineer by day and ninja by night as our CTO and co-founder – Carlos Villavicencio; a people's choice & resourceful COO - Ali Hassan, and a gold medal conversion strategist CMO - Caio Ferretti. We do have 2 other female team members in product development, an Android developer, and a jewellery designer. What's more we do plan to bring on board more girls to the team.
How long did it take you to be where you are now?
It took us over a year to really take off and make Kwema a reality.
What was the biggest obstacle?
You'd say that for being a wearable tech company, figuring out the electronics would be the hardest part, but it wasn`t.
The most difficult part was coming to a jewellery design that most of women would wear. We're still working on new designs for this first collection in order to address different styles.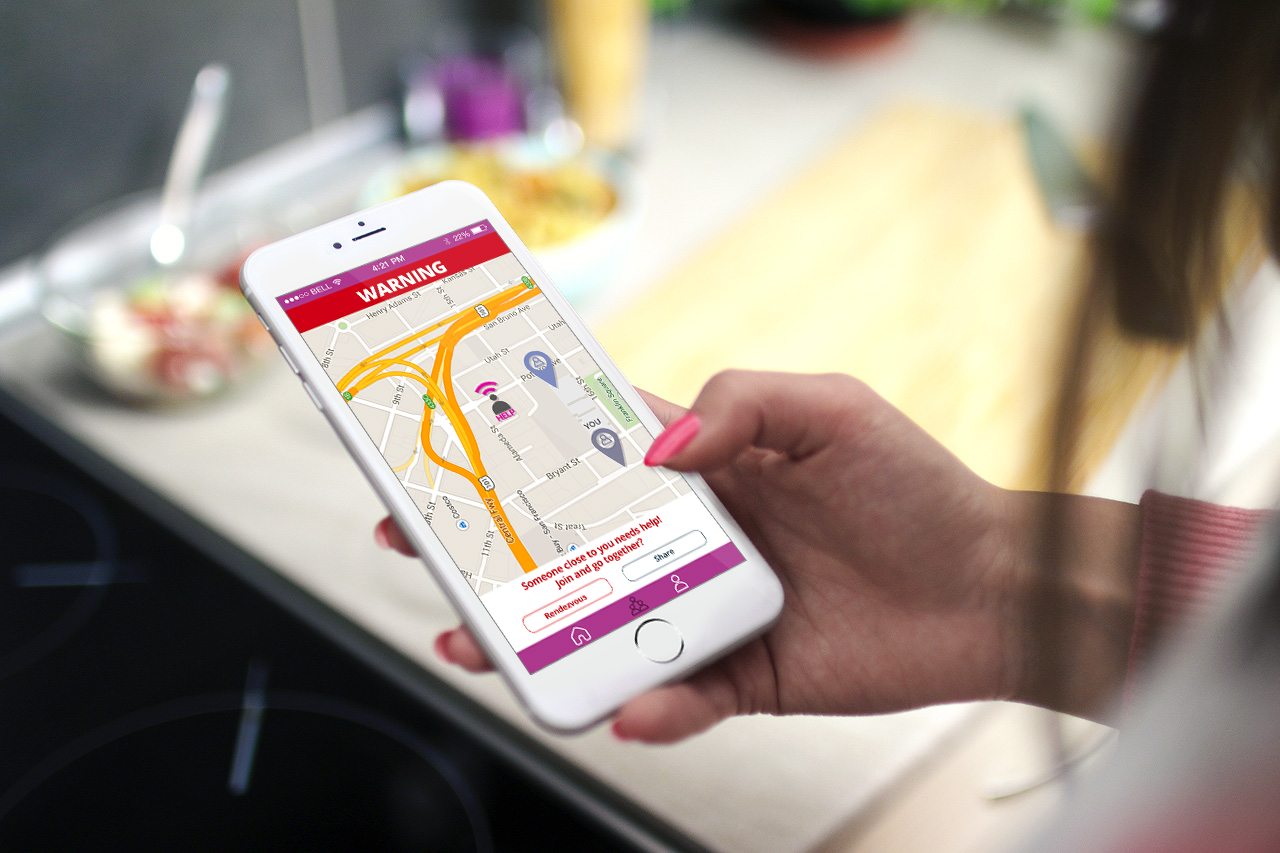 Talking about the tech industry, and specifically talking about the wearables space, finding talent was a hurdle for us. You need to find a partner with experience not only in prototyping but taking your product to mass production. We see so many companies showing proudly their first dummies or look-alike prototypes and these products never make it to the market. Many things can and will go wrong while prototyping, yet this is only the first phase. The second phase is making this prototype manufacture-ready and that requires an experienced partner to commit to your project, willing to work with your budget, which makes it even harder.
In 2016 I feel we have no boundaries any longer regarding where you live, where your company is based and, where our customers are. Over the past 2 years, I've been hoping between hemispheres – from Chile to Alaska, and getting the most from each ecosystem. Every time we see more female founders in LATAM, and I'm proud to be part of this wave.
What are your biggest achievements to date?
I'm proud to have acquired a M.Sc. in Finance degree - although I don't work with finance 24/7 but it was something I really wanted to do. I'm proud to have been a co-founder of Tabacus Initiative, an Ed-tech company that grew to 5 countries before Kwema that taught me most of things I know today about being a techpreneur. More importantly, I'm uber proud for Kwema having an amazing team working towards our vision to build safer communities for women.
What are your projects you are currently working on within your company?
Having the first prototype ready, we're now preparing for manufacturing, as we expect to have the products shipping in March 2017. We're also working to launch the Android app since the iOS version is already published on Apple Store.
A new project that came along is Kwema's network of ambassadors, men and women who are already working in different fronts of women empowerment and want to help create safety networks in their communities. We're very happy with the engagement we're getting from amazing people dedicated to empower women and are committed to end gender-based violence. So we decided to open up the program to everyone who wants to be an ambassador of Kwema in their communities, they can do so by signing up on our website.
We're only scratching the surface at this point, we'll see all kinds of technology enabled wearable pieces targeting different needs from safety, dieting aid, allergens detectors, even to a personal assistant at your finger tips. Soon we won ́t need a smartphone to be the intermediary between the user and the server, wearable devices will have a built-in communication module small enough to work independently making it super versatile and opening the market broadly.
Who are your 3 inspirational women in wearable tech?
I feel inspired by women who decided to run tech companies or empowering women in the tech industry like Urska Srsen (Founder of Bellabeat), Christina Mercando d'Avignon (Founder & CEO of Ringly) and Adriana Gascoigne (Founder of Girls in Tech).
Why is the #WomenInTech initiative important to you?
I'm proud to be a woman in tech, I feel we finally have stepped up and we're building a different generation of tech companies, I want to think a more human one.
Building a company is not hard is brutal, and we need a support system, if you have a product already, build the team before scaling. If you just got started, get at least one like-minded person with a complementary skill set and give them the co-founder seat. I'm not saying you won't be able to do it by yourself, but it will take you way longer to get where you want.
Website: https://kwema.co
Twitter: @Kwema_
Facebook: Kwema
This interview was conducted by Marija Butkovic, Digital Marketing and PR strategist, co-founder of Women of Wearables and Kisha Smart Umbrella. She regularly writes and speaks on topics of wearable tech, fashion tech, IoT, entrepreneurship and diversity. Visit marijabutkovic.co.uk or follow Marija on Twitter @MarijaButkovic @Women_Wearables @GetKisha.