February meetup - WoW Wednesday
February panelists:
Sylvia Heisel - Creative Director/ Heisel Co.

Ye Jin - Director of CRM & Customer Experience/ Rebecca Minkoff

Sharon Samjitsingh - Co-Owner, Health Care Originals/ ADAMM
March meetup - SciFi Wednesday - The Future of Wearable Technology with WoW
Sci-fi used to be about predicting the future, but now the future is here and the technology that was once an imagination is now a reality that is impacting businesses in all industries. We want to focus on the different technologies and dive deep into how we can use it today and in the future. SAP Next-Gen - in partnership with Women of Wearables brings to you an interactive science fiction workshop during which you will hear from a group of innovators in the wearable technology space and then you yourself will use your SciFi creativity to dream up new concepts that will define the future of what we wear.
May meetup - LAUNCH YOURSELF INTO A CONNECTED WORLD OF VIRTUAL HUMAN JEWELRY
360Fashion Network and Totwoo launch a new era in jewelry called Future Jewelry, a fully immersive and interactive exhibition where light, touch, sound, fashion, AR, and AI come together in beautifully handcrafted jewelry pieces created by Totwoo.
Featuring a 360Fashion & Tech Panel of Experts, moderated by Gen Art's CEO Keri Ingvarsson:
• Mats Wang, President/CEO of Totwoo Global
• Marco Dal Maso, Co-Founder/Design Director of Totwoo Global
• Anina Net, Founder/CEO of 360Fashion Network
• Amanda McIntyre-Chavis, NY Ambassador of Women of Wearables
• Tina Gosselin, Strategic Accounts Manager of Swarovski
Live DJ, Cocktails and Hors d'Oeuvres all evening.
June meetup - WoW Wednesday: The Lady Tech Guild 3D edition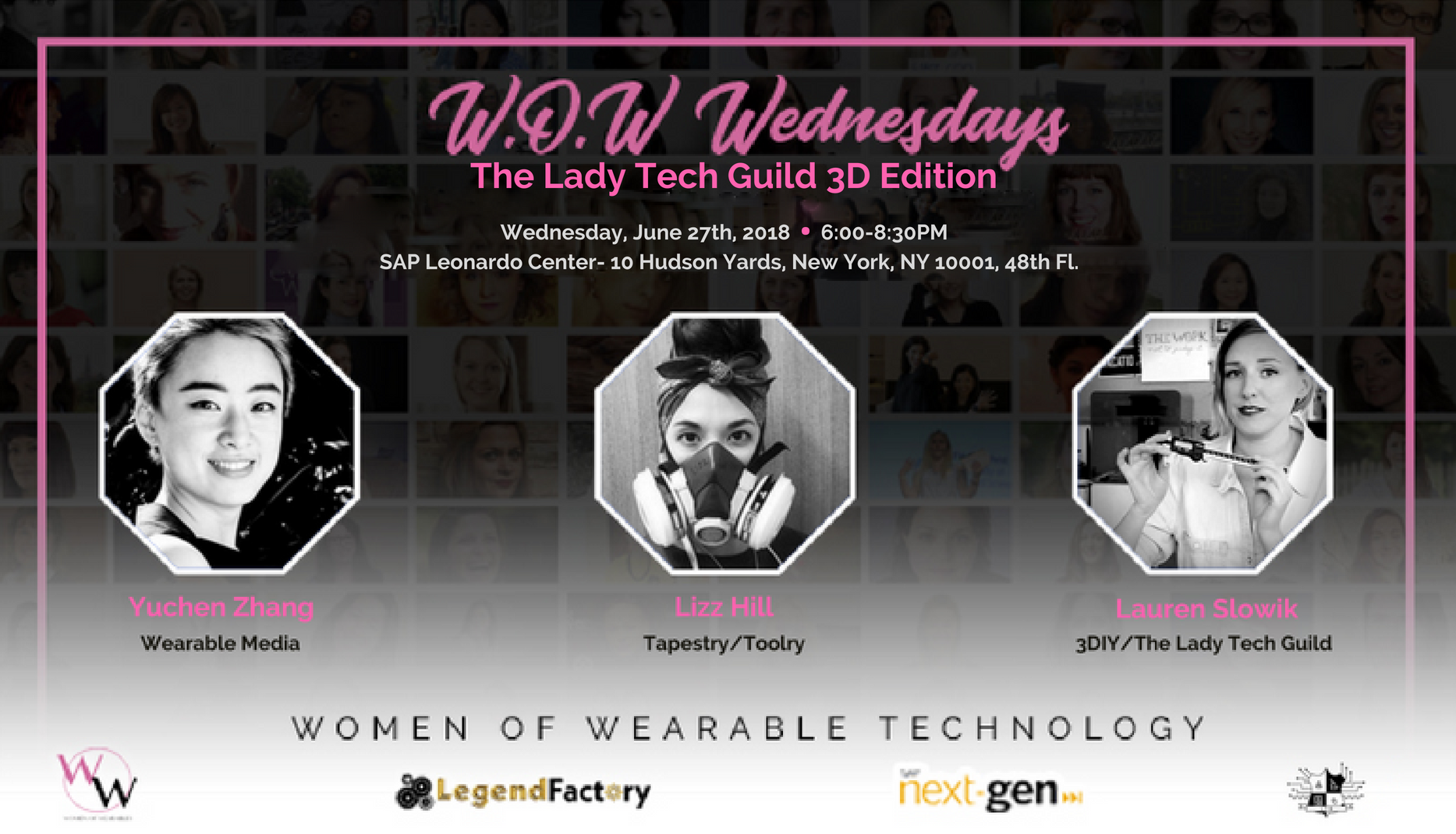 In June we hosted an engaging panel discussion on 3D printing, modelling and scanning tools of the future and their connection to wearables:

Lizz Hill - Tapestry/ Toolry
Yuchen Zhang - Wearable Media
Lauren Slowik - 3DIY/ The Lady Tech Guild
Moderated by Amanda McIntyre Chavis - NY Ambassador of Women of Wearables
July meetup - WoW Wednesday: VR/AR Edition

In July we partnered again with SAP Next Gen to talk about all things Virtual Reality. We had an engaging panel discussion on VR, AR, MR, XR, their connection to wearables and the future:
Johanna Salazar - Two Goats
LaJuné McMillian - LaJuné
Jen Salavarrieta - SVRF
Hosted by Greg Dietz - SAP Next Gen
Moderated by Amanda McIntyre Chavis - NY Ambassador of Women of Wearables